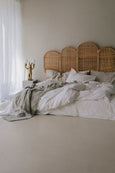 Rattan Headboard - Fan Shaped
4 995 SEK
Free shipping within Sweden for all products except headboards and bulky items.
A headboard in handwoven ecological rattan.
The fan shaped headboard is an real artisan's work. The arched framework is connected in a beautiful woven net all made by hand.
This headboard model is made to be hung on the wall behind your bed. The bar has rattan loops in the back - easy to connect to the wall. Your can easy choose a perfect hight and place for your bed. 

Our rattan is handwoven by artisans and some variations in colours and in the weaving are normal features. It makes each product unique.

Details 
Height: 90 cm from the bottom bar ( 75 cm the actual "fan framework" )
Length: 210 cm 
Weight: about 4 kg
The headboard works for smaller beds as well, the headboard will then create a nice space for a bedside table or just surround the bed in a beautiful way. 

NOTE: Treat your rattan with love and it will last forever. Rattan is a natural material and must be treated as such. Give it a splash of water every month to keep it humid and to keep it from drying out. Rattan tends to brake more easily if it dries out. Don't put your weight on one spot as it may cause it to break. Read more about how to take care of your rattan furniture under "Care for your products".
Delivery:
 Longer delivery time during spring 2022 - June delivery. 
This item was recently featured in Nordiska kök. See it in action!
Älskar denna sänggavel! Så otroligt välgjord och lyfter sovrummet till max!