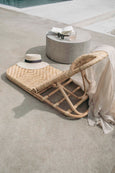 The Original foldable Sunbed - Braided
1 995 SEK
Free shipping within Sweden for all products except headboards and bulky items.
A foldable sunbed in handwoven ecological rattan.
This sunbed is weaved in a braided pattern, both the backrest and the seating. It has beautiful natural rattan color and a steady frame work and comfortable seat and backrest.
Folds flat and reclines to 3 levels. Comes with a headrest for maximum comfort. Beautiful in your garden, by the pool or to pop into your wagon and bring to the beach.
Since our sun beds are handwoven from natural rattan some variations in color or weaving are normal. It makes each product unique.
Please note: for better durability, the loops holding the seating are made of steel. 
(The shoulder strap for carrying is only included with the Picnic chair)
Details
Width: 45 cm
Length: 120 cm (
when folded flat) 
Weight: 5,5 kg
It´s suitable for the garden, your terrace or by the poolside. Is folded flat for storage and can be moved around easily.
Now On stock delivery 
NOTE: Treat your sun bed with love and it will last forever. Rattan is a natural material and must be treated as such. Give it a splash of water with natural soap flakes and use a cloth to dry it of, repeat every month to keep it humid and to keep it from drying out. Rattan tends to brake more easily if it dries out. Don't put your weight on one spot, like a foot or a knee, since that will cause too much surface tension on the rattan and may cause it to break. Read more about how to take care of your rattan furniture under "Care for your products".
Best purchase
SO happy with the foldable sunbed. Fits perfectly on the patio, it's stunning and practical to stove away on rainy days.